The National Election Commission (NEC) of the Republic of Korea held the 2021 Seoul International Forum on Elections at the NEC Secretariat Office in Gwacheon from 3pm on May 13th. The SIFE which marks the 7th year this time since 2015 is an international event where the NEC invites the international election management bodies and experts from home and abroad every year to discuss the issues from the fields of democracy and elections.
The Chairperson of the NEC, Noh Jeong-hee delivered the opening remarks; Frode Solberg, Ambassador of Norway to the Republic of Korea, and Jonghyun Choe, Secretary General of the Association of World Election Bodies delivered the congratulatory messages online for the purpose of taking the preventive measures against the COVID-19.
This Forum was divided into two sessions under the theme of 'After the Pandemic, Finding a Path to Democracy.'
The theme of the first session was 'Crisis of Democracy and Building Trust in Elections.' It aimed to diagnose and resolve the issues on damaged value of democracy and sliding confidence in elections amid the COVID-19 pandemic and during the process of counteracting the COVID-19.
The second theme was 'the Roles and Responsibilities of Social Media Platforms in Elections.' During the second session, the discussion focused on finding proper roles of social media platforms and following challenges to resolve, all of which are caused by the increasing impact of social media platforms and increasing side effects during the COVID-19.
The NEC said that it hopes to identify the unforeseen threats and challenges against democracy after the pandemic and find a path to a better democracy in the times of post COVID-19.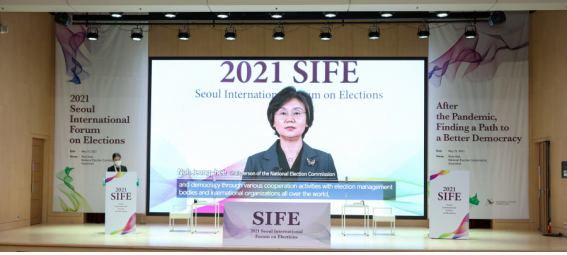 Noh Jeong-hee, the Chairperson of the NEC Delivering the Opening Remarks
Frode Solberg, the Ambassador of Norway to ROK Delivering the Congratulatory Remarks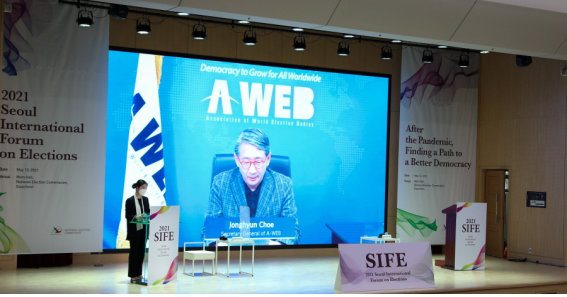 Jonghyun Choe, the Secretary General of A-WEB, Delivering the Congratulatory Remarks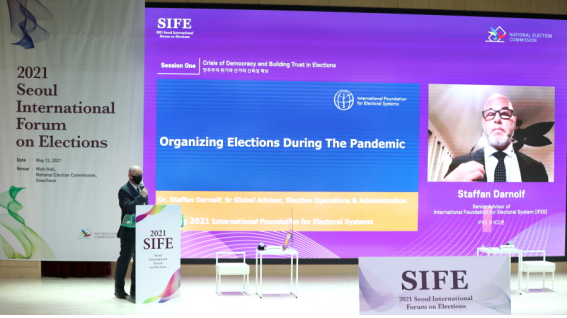 Session One in Progress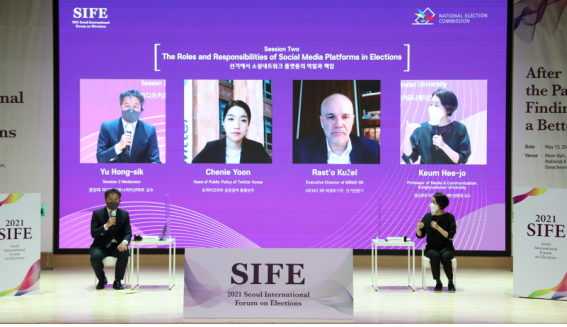 Session Two in Progress