= Videos and images made named 'Come and Vote Safely' =
Regarding the spread of the Coronavirus (COVID-19), The National Election Commission (NEC) of the Republic of Korea has set out various measures including disinfecting polling stations and the operation of temporary polling booths so that voters can participate in voting without safety concerns.
In this regard, the NEC has provided the following videos and images that explain the voting process for the 21st National Assembly elections for media to use in their reporting.
Videos:
1. Video Title: 'Come and Vote Safely'
2. Number of Videos: 2 videos lasting 10 minutes each (early voting video, election day video)
3. Video content:
• Disinfection and Sanitization of the inside and outside of early and election day polling stations and the voting procedure for early voting and election day voting
• Voting procedures at temporary polling stations for electors with fever or respiratory symptoms, etc.
4. Youtube Links:
• Early Voting: https://youtu.be/HPvLnfT4GQc
• Election Day: https://youtu.be/V2rYxQaX07M
5. Video File: If you need the file, contact the Media Division (02-507-4351)
Images: Total of nine images show below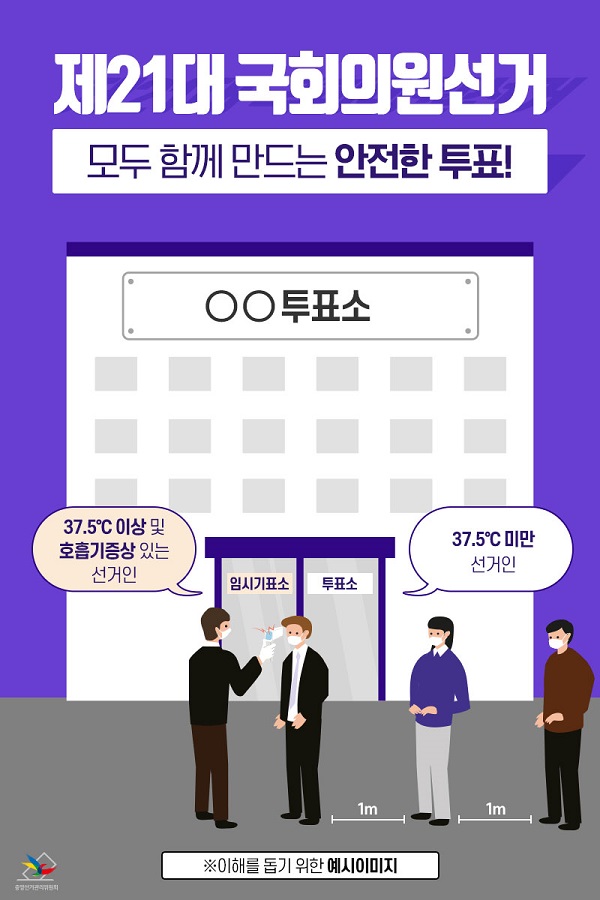 21st National Assembly Elections
Making Voting Safe Together
"Voters with a temperature above 37.5 degrees"
"Voters with a temperature below 37.5 degrees"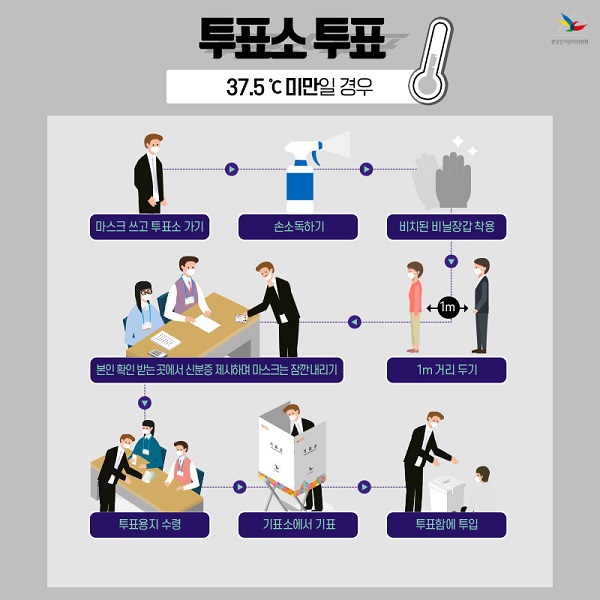 If your temperature is below 37.5 degrees
Wear your mask – Use hand sanitizer – Wear the vinyl gloves provided – Keep 1m apart – Lower or take of your mask briefly for voter identification – receive a ballot paper – Mark the ballot in the polling booth – Put the ballot paper in the ballot box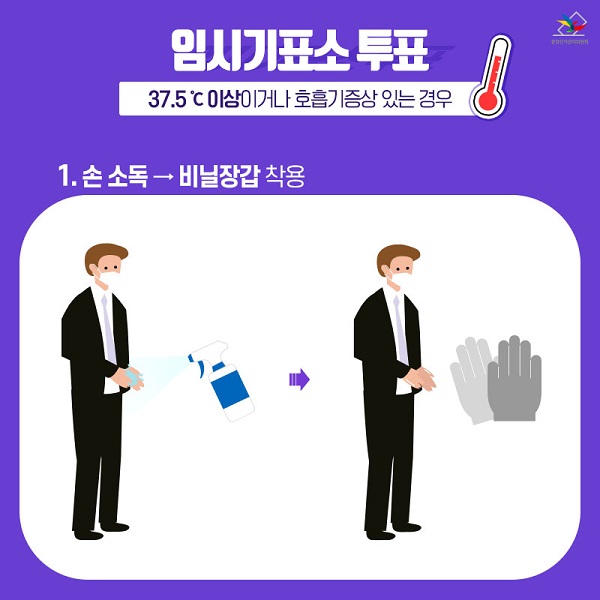 Temporary Polling Booths
If your temperature is above 37.5 degrees or you are showing symptoms
1. The voter uses the hand Sanitizer - wears the vinyl gloves provided​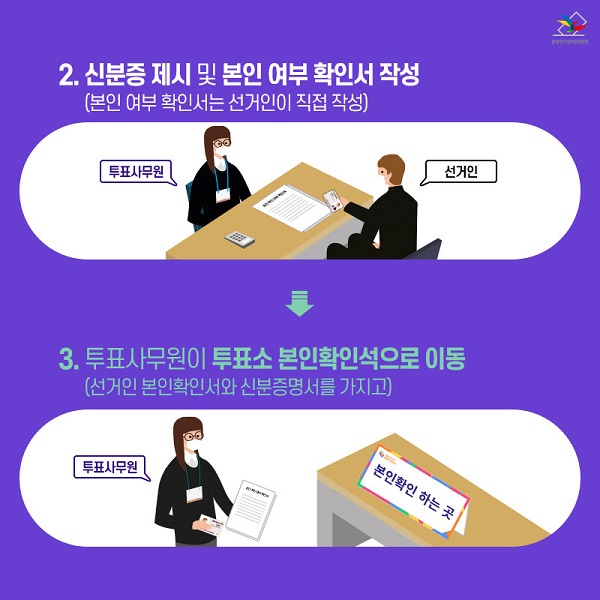 2. The voter presents their ID to the polling station staff and signs the identification form
3. The polling station staff goes to the identification stage in the polling station (they take the identification form and ID card with them)​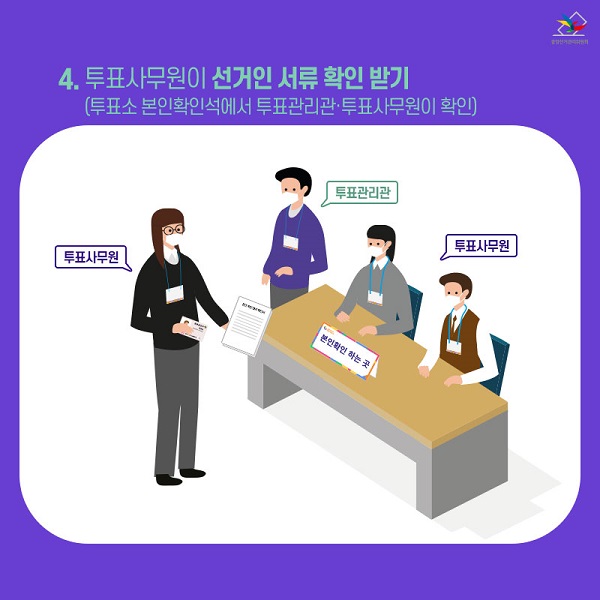 4. The polling station staff check the identification information (the polling station manager and staff check the identification form)​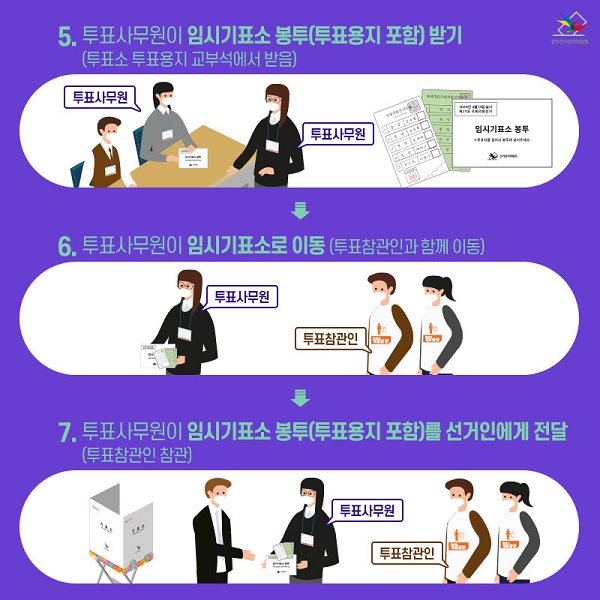 5. The polling goes back to the temporary polling booth and the voter receives the envelope and ballot paper (Received the ballot paper from their seat)
6. Polling Station Staff Move o the Temporary Polling Station (polling station observers move with them)
7. The polling station work gives the temporary polling station envelope (with the ballot paper inside) to the voter (observers watch the process)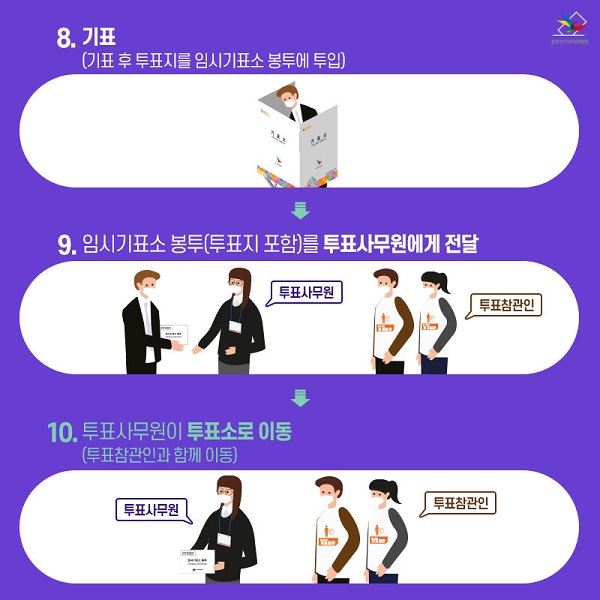 8. The voter marks the ballot paper (then places it inside the temporary polling station envelope and seals it)
9. The voter gives the sealed envelope to the polling station staff
10. The polling station staff moves into the polling station (with observers)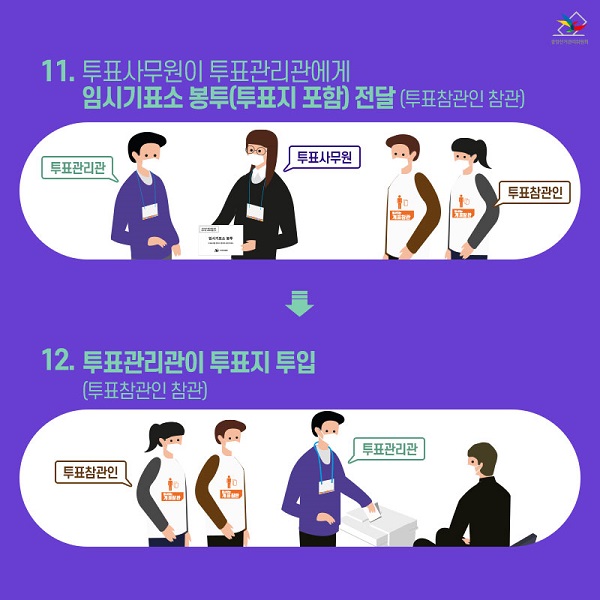 11. The polling station staff gives the temporary polling station envelope to the polling station manager (with the ballot inside, observers watching)
12. The polling station manager places it inside the ballot box (observers watching)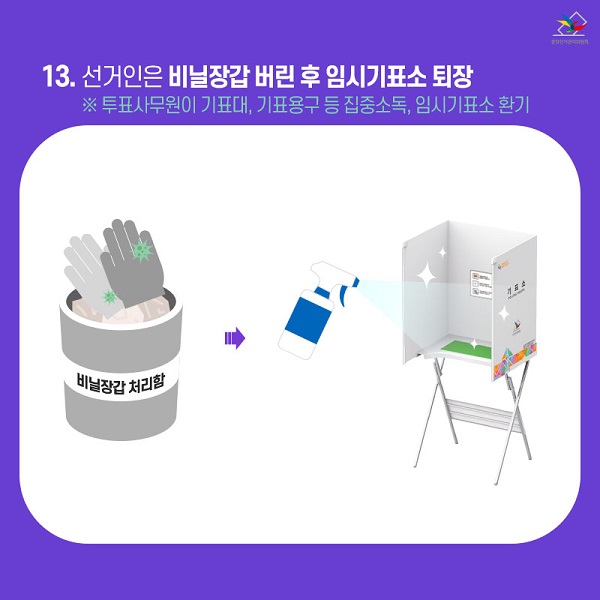 13. The voter places the gloves into the bin provided and leaves. The polling booth, marking device etc are disinfected